August, 2018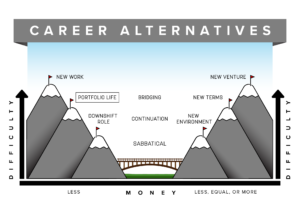 This is the fifth in a series about how nine clients and friends successfully transitioned or transformed their careers after age 50. This month I will be describing how one former client made the transformation to a portfolio life. The graphic above reveals the degree of difficulty and the economic considerations when seeking a portfolio life. This career alternative involves a redistribution of time committed to work, community and personal activities. 
In my January, February and March blogs, I described each of the nine career alternatives, with corresponding strategies, economic considerations and degrees of difficulty. Please refer back to these three blogs as you prepare for your own career transition or transformation. 
Pat's Portfolio Life Story 
Background
 
"I was a career marketing and consulting professional, with a particular focus in customer experience. I spent the first 13 years of my career on the client side, and the last 30 consulting with clients. As my consulting practice evolved, I realized that what clients valued most in me was the trust they could extend, knowing their interests would be primary. When I started my own practice in 2010, I wrote my 5 core values on Day 1. My foremost value was to always act in the best interest of the client. Always. That governed my approach and helped build several life-long relationships — the legacy of my work that I value most.
Catalyst for Change
As a solo practitioner, I typically maintained 1 or 2 client assignments concurrently. Late last year, I had finished a lengthy, rewarding — and exhausting — client project. It allowed me to produce the sort of signature impact on a major brand that was the ultimate goal of my practice. When I went into my office each morning in the weeks following, I realized my reservoir of energy was sapped – the drive that had been so evident for nearly 45 years was missing.
I was pursuing new business, but just going through the motions. I discussed my feelings with my wife. Our two-career approach had enabled us to achieve our financial objectives, she planned to continue working several more years, and I was just months from turning 65. When she asked, "Why don't you just retire?", her support, coupled with my desire to start my portfolio life, made it easy to say "good idea."
Results
The discipline of writing out a strategic plan for my portfolio life was foundational. I set a goal to have at least 3 projects, or commitments, identified in each 'slice' of my portfolio life: Vocation, Avocation, Friends & Family, Self-Development, and Giving Back. As one is completed, the next rises to the top. The ability to become 'ego-centric' – in a positive context – enabled me to identify the true passions that I wanted to pursue in every category.
Serving on boards, providing strategic guidance for non-profits, one last effort to salvage my golf game, cooking lessons, time to plan the travel that is our most beloved hobby as a couple, more attention directed to childhood buddies, college classes for the pure joy of learning, etc… Eight months after writing my plan, I am completing consulting deliverables for 3 non-profits, I exercise and golf more than ever, my cooking has improved, I've re-connected with friends back home, and I've planned a major celebration of our 30th anniversary for 2019.
Reflections and Lessons Learned
'Retirement' can be the capstone of your life's work…rather than a consolation prize. You get to drive the agenda – you do the work you care to do, for the causes you support, all done on your terms. You determine how big each slice of the pie is. The freedom from traditional work/career demands may inspire you to more activity, not less – but it is activity that is so fulfilling because it aligns with your passions! David Corbett, in his Portfolio Life: The New Path to Work, Purpose, and Passion After 50, eloquently defines the opportunity a portfolio life presents: "Where our deep gifts, and our gladness, meet the needs of the world."
Pat now uses a title/signature of 'CEO of My Portfolio Life.' Friends ask what he is running, and he replies, "Me! It's symbolic, but important to me. It means that this is more than a pastime or a project — it is a second or third career and arguably, the most important one."
Some Personal Notes, Additional Learning Resources, and What is Ahead for My Next Blog Series
I am committed to the portfolio life option as an ideal way to live and work in my second half, and am preparing for a transformation that begins in January, 2019. My December, 2018 blog will reveal how I have been bridging to this career alternative over the past few years.
If you want to learn more about pursuing a portfolio life, read my October, 2014 blog. To hear my 30 minute podcast on this topic, released this month, click here.
In January, 2019 I will begin a new blog series titled, "Portfolio Life After 60." I would love to learn how your portfolio life has evolved if this has become your second half story. Please send me updates from time to time. Let's help one another navigate our next chapter.
https://georgedow.com/wp-content/uploads/2018/12/masthead-2.png
0
0
George Dow
https://georgedow.com/wp-content/uploads/2018/12/masthead-2.png
George Dow
2018-08-23 09:33:48
2018-08-23 09:40:11
Career Crossroads after 50... Will a Portfolio Life Become Your Second Half Story?