January, 2018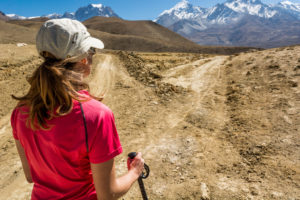 This blog begins a year-long Career Crossroads after 50 series. This month I review nine top choices for anyone over 50 who finds themselves at a career crossroads. Why an over 50 focus? Most of my clients have been over 50, or within striking distance of 50. There are quite a few of us out there! I recently turned 63. Being over 50 has some unique challenges and opportunities that I would like to explore with you over the next 12 months.
As I looked ahead to 2018, I decided it was time for a change. Over the past six years of blogging, I have followed my instincts each month. I have allowed ideas to bubble up organically and spontaneously. This year, I have decided to offer a more intentional series that will explore the career choices, strategies and success stories drawn from my 28 years in this career transition field.
This month I describe nine top choices each of us has at our career crossroads. Next month I will help you prepare for the journey ahead, whether you choose a career transition or a career transformation. After that I will offer a series of stories from clients, friends and family over 50. These stories will help you understand the opportunities, obstacles and lessons learned while pursuing each of the nine options.
If you are at a crossroads, consider which of the nine paths you would like to follow. Next month I will offer tools and strategies you will need as you prepare to take your next step. I will also focus on the degree of difficulty, and the economic factors associated with each choice.
I look forward to being your sherpa on the journey ahead. In the months that follow, the strategies and stories within these blogs will illuminate new possiblities for your preferred future.
Nine Top Career Choices After 50
1) New Environment
Change industries, work culture, size or type of firm, but continue in a similar function.
2) New Terms
Change compensation terms, including contract work, part-time, and/or flexible schedule.
3) New Venture
Start a consulting practice, buy or start a business or buy a franchise.
4) Downshift Role
Move from your most recent role to a lower level of responsibility and/or lower title.
5) Portfolio Life
Redistribute time committed to work, community and personal activities.
6) New Work
Significant change in the nature of your work. Use different skills and/or expertise.
7) Sabbatical
Intentional time off for personal reasons, professional renewal and/or development.
8) Continuation
Very similar or identical work, environment and employment terms.
9) Bridging
Move from one option to another over time. Establish timelines and personal, work and financial benchmarks. Build bridges to the next step, while on the current path.
Happy trails to you!
https://georgedow.com/wp-content/uploads/2018/12/masthead-2.png
0
0
George Dow
https://georgedow.com/wp-content/uploads/2018/12/masthead-2.png
George Dow
2018-01-31 10:24:56
2020-10-08 15:56:20
Career Crossroads after 50... Nine Top Choices