February, 2018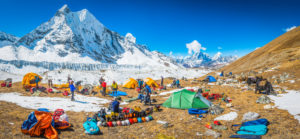 In last month's blog, I identified nine top choices at career crossroads after age 50. This month I will help you decide which option(s) to pursue first. You will learn the degree of difficulty and finanicial implications for each choice. Next month I will continue to describe the process of moving ahead in your 50s and beyond.
Here again, your nine top choices at the crossroads:
1) New Environment
Change industries, work culture, size or type of firm, but continue in a similar function.
2) New Terms
Change compensation terms, including contract work, part-time, and/or flexible schedule.
3) New Venture
Start a consulting practice, buy or start a business or buy a franchise.
4) Downshift Role
Move from your most recent role to a lower level of responsibility and/or lower title.
5) Portfolio Life
Redistribute time committed to work, community and personal activities.
6) New Work
Significant change in the nature of your work. Use different skills and/or expertise.
7) Sabbatical
Intentional time off for personal reasons, professional renewal and/or development.
8) Continuation
Very similar or identical work, environment and employment terms.
9) Bridging
Move from one option to another over time. Establish timelines and personal, work and financial benchmarks. Build bridges to the next step, while on the current path.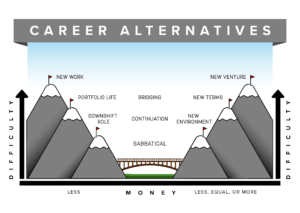 Each of your nine choices are listed on the graphic above, based on degree of difficulty and financial implications. For a better view, click on the photo to enlarge it. Special thanks to Michael Dow Design (my son) for this graphic.
I use a mountain climbing metaphor to explain these nine career alternatives. Start by considering the three choices to your right. As the altitude increases, each new option gets more difficult than the one preceding it.
A new environment is less difficult than new terms, because with new terms you will need to find a new project each time one ends. New venture is the hardest choice, because you need to do so much to get a business started or take it over, and this choice is fraught with risk. It might, however, also be the most rewarding!
If you choose the options to your left, notice what happens with money on the bottom line. If you select options to your left, the money will be less. If you choose options to your right, the money will be less, equal or more.
Downshifting may be easier work than the other two options, but requires a strong sales strategy. You are returning to an earlier stage of your career, know the work well, or can eventually catchup with what you need to learn. This may be a hard sell, as your employer envisions you becoming bored, a flight risk (to better pay and work), or a threat to the boss if you are as capable or more capable than him or her.
To help you overcome these challenges, read my October, 2016, blog. You will find a great success story in this "downshift role" catgory. Remember that I will be doing nine future blogs just like that one. For every challenge I identify in this blog, there is someone who has figured out how to overcome it. Their stories will guide and inspire you.
The next option on the left side is a portfolio life. This is a broad transformation. Even with the fewer hours of paid work in a typical portfolio life, it is difficult to secure meaningful part time, contract, or interim paid work. In addition, this is a reshaping of life and work that takes you outside the working identity you have had for many years. Reinventing your life and work is not an easy task.
The most challenging option on this left side is new work. One has to get down off the career ladder and move that ladder to another wall. In most cases, you will start over from the bottom up, offer less experience than your competition, earn less pay than before, and have a smaller network to leverage. Again, I will have an inspirational and instructive story in a future blog to show you how others have climbed up that new wall successfully.
The middle three options are either about taking a break (sabbatical), continuing in your current or virtually identical path and organization (continuation), or staying in your current role while at the same time taking steps to prepare for a change (bridging). These options offer the same or less income, with similar or lower degrees of difficulty.
You now know your nine future career choices, with the degree of difficulty and financial implications for each. Next month I will describe the sequence of actions for moving forward, for a career transition, or a career transformation. In two months I will begin a series of nine case studies. These stories will reveal how the pursuit of these options looks and feels at age 50 and beyond. Is it time to get ready for what is ahead?
https://georgedow.com/wp-content/uploads/2018/12/masthead-2.png
0
0
George Dow
https://georgedow.com/wp-content/uploads/2018/12/masthead-2.png
George Dow
2018-02-13 12:51:47
2018-02-13 12:51:47
Career Crossroads after 50... Preparing For What's Next (Part 1)