June, 2020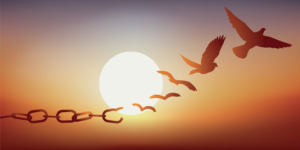 The Covid-19 pandemic and the protests and riots about systemic racism have converged. Where do you turn for the right words to help you cope? In this blog I will offer two poems and four quotations that I have turned to and shared in times like these.
About the Soul's Compass
The Winds of Fate
One ship drives east and another drives west
With the selfsame winds that blow.
Tis the set of the sails
And not the gales
Which tell us the way to go.
Like the winds of the seas are the ways of fate,
As we voyage along through the life.
Tis the set of a soul
That decides its goal,
And not the calm or the strife.
Ella Wheeler Wilcox, American author
Invictus
Out of the night that covers me
Black as the pit from pole to pole,
I thank whatever gods may be
For my unconquerable soul.
In the fell clutch of circumstance,
I have not winced nor cried aloud.
Under the bludgeonings of chance
My head is bloody, but unbowed.
Beyond this place of wrath and tears
Looms but the horror of the shade,
And yet the menace of the years
Finds, and shall find, me unafraid.
It matters not how strait the gate,
How charged with punishments the scroll,
I am the master of my fate:
I am the captain of my soul.
William Ernest Henley, English poet
Nelson Mandela, while incarcerated at Robben Island prison, recited the poem to other prisoners and was empowered by its message of self-mastery.
The photo below was taken from the shores of Robben Island, looking toward Cape Town, South Africa.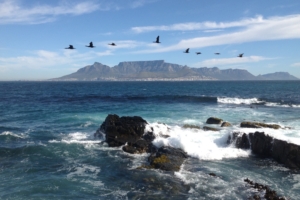 About Peace and Freedom
"You can't separate freedom from peace
because no one can be at peace unless he has freedom."
Malcolm X, civil rights activist
About Living a Long and Full Life
"In spite of illness, in spite even of the archenemy sorrow, one can remain alive long past the usual date of disintegration if one is unafraid of change, insatiable in intellectual curiosity, interested in big things, and happy in small ways."
Edith Wharton, American author
About Your Choices at the Crossroads
"Stay and accept it, stay and change it, or leave it.
These are your healthiest choices when facing extreme frustration. If the first two choices are impossible, then the third choice is imperative."
George Dow
About Justice, and Faith in the Future
"Injustice anywhere is a threat to justice everywhere."
"Even if I knew that tomorrow the world would go to pieces, I would still plant my apple tree."
Martin Luther King, Jr., civil rights leader
I hope these words have provided you with some helpful guidance for navigating these challenging times.
George
https://georgedow.com/wp-content/uploads/2018/12/masthead-2.png
0
0
George Dow
https://georgedow.com/wp-content/uploads/2018/12/masthead-2.png
George Dow
2020-06-11 21:37:08
2020-06-11 21:37:08
Powerful Words for Challenging Times