April, 2020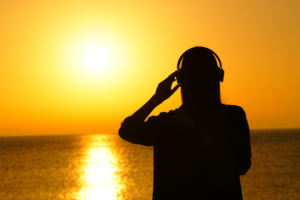 Borrowing from the lyrics of Bob Dylan, this month I'll give you "shelter from the storm." In difficult times I turn to music for comfort, connection and inspiration.
The songs I will highlight in this blog offer these three elements in ways that only music can. If you click the links, you'll learn how the songs of Simon and Garfunkel, Marvin Gaye, Carole King, James Taylor and Bill Withers bring me comfort and a whole lot more. You can make your own list of comforting music if you like.
Comfort
Simon and Garfunkel sing Bridge Over Troubled Water,1970
This song came out when we were still in the throes of the Vietnam war, deeply divided as a nation. Music was a unifying force for my generation, and provided the soundtrack for our anti-war protests. Songs like this one offered a reminder that we are not alone in our struggles. It helped us remember our need to comfort and support one another as we bridge to what lies beyond the current struggle.
Why I love this song
Art Garfunkel told Paul Simon that the song needed one more verse. Simon thought he was done after the second verse. He said it was to be "just a simple little hymn." That final verse helps prepare us for life beyond the struggle, beginning with the words "sail on silver girl."
In this video, created in January of this year, you will hear the stories behind the song. Included is studio footage from 1970 and present day commentary from Paul Simon, with references to the song's gospel inspiration and how and why that additional verse was added.
Comfort + Connection
Carole King and James Taylor sing You've Got a Friend at the Troubadore in 2010
This is another song from the early 1970s. This video clip is from a wonderful 2010 reunion of the originator, Carole King, and the person who first sang the song commercially, James Taylor.
The late Bill Withers' Lean On Me was originally written and performed by him in 1972. This version was performed by artists from around the world in 2015.
Why I love these songs and videos
I love how Carole King and James Taylor came together in 2010 to sing You've Got a Friend. This is a tribute to their friendship and collaborations over many decades. Their 60+ year old voices are strong and beautifully matched in this video.
I also love how the performing of Lean on Me became an international tapestry in this expertly produced video, funded by the Bill and Melinda Gates Foundation.
Minnesota Public Radio recently asked us to sing each of these songs from our open front doors on April 16th (You've Got a Friend) and April 24th (Lean on Me.) Public Radio offered us the musical accompaniment, words and the cue to start singing. We followed along with our shared voices to help lift the spirits of our neighborhoods.
Comfort + Innovation + inspiration
Marvin Gaye's Star Spangled Banner, at the 1983 NBA All-Star Game
You have heard this song hundreds of times, but I bet you have never heard it sung like this. Marvin Gaye takes it to a very special soulful place.
Why I love this version of the song
When Marvin Gaye sang the national anthem his way, he turned a routine, predictable experience upside down. In so doing, he invited us to experience the thrill of transformation along with the comfort of national pride.
Take care and stay well. May your music comfort, connect and inspire you in the challenging and transformational days ahead.
George
https://georgedow.com/wp-content/uploads/2018/12/masthead-2.png
0
0
George Dow
https://georgedow.com/wp-content/uploads/2018/12/masthead-2.png
George Dow
2020-04-27 10:01:14
2020-04-27 10:01:14
Finding Comfort in Music