May, 2015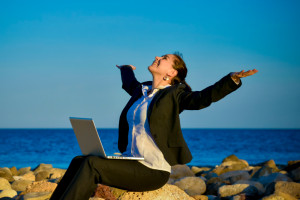 What makes us happy? What do we think makes us happy, but actually doesn't? How can we increase our level of happiness? What makes us happy at work? In this blog, Amherst psychology professor, Dr. Catherine Sanderson, will be answering the first three questions. I'll tackle the forth one myself.
Last month I attended the One Day University program sponsored by the Minneapolis Star Tribune newspaper. It was wonderful. For me, it was the best of the college educational experience, but with no finals! The kickoff program was a lecture by professor Sanderson, and from the start the audience was mesmerized. Who isn't curious about the sources of happiness, and how to get more of it into their lives? I greatly appreciate Dr. Sanderson sharing her wisdom and slides on that day, and for allowing me to share them with you via this blog.
If this were high school or college, viewing these slides would be like a "Cliff Notes" experience, in lieu of reading the actual textbook. You can learn quite a bit in just a few minutes. I recently shared these slides with some friends, and they especially appreciated the quotes and cartoons. The quote that gets the biggest response is on slide seven, "Having a baby is like suddenly getting the world's worst roommate." by Anne Lamott. The cartoon that gets the biggest laugh shows a man on his deathbed saying, "I should have bought more crap."
Here's one you might appreciate, depending on your age. On page nine, Dr. Sanderson shows a U-bend graph that reveals self-reported well-being, on a scale of 1-10. At age 18-21 happiness is rated at 6.8. At age 50-53 it bottoms out at 6.3. At age 82-85 it tops out at nearly 7.0! Surprised? See for yourself. (click the link that follows to see the slide show Science of Happiness – Minneapolis)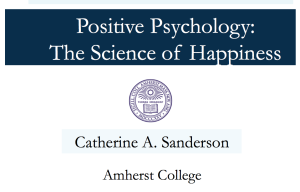 I chose to start off this blog with a slide show because I know how difficult it is to find time to sit down for an hour or more, even for a great lecture like this one. As you consider investing your time, it might help to know that the Princeton Review has rated Dr. Sanderson one of the top 300 professors in the country. Invest ninety minutes to watch both the lecture and the Q & A that follows. It will take less time than watching most movies, and I'm betting you'll be happy you did it. (Click here to watch the full lecture similar to the one I experienced.)
The last item I promised to address in this blog is the question, "What makes us happy at work?" My perspective on this question has been gleaned from twenty-six years as a career management consultant. I offer each of my clients a very long statement that incorporates most job factors tied to happiness at work. "We each want to be happy with the work we do, the organization we occupy, the relationship with our boss, and with the personal factors associated with our work including compensation, location, time and travel requirements."
Wouldn't you agree that these are the biggest factors affecting your happiness at work? Each of us has our own unique criteria for job satisfaction, and each of the factors listed above has its own degree of importance to us. To help you explore this subject in greater depth, and help clarify what you need to be happy at your work, click this link to open my October, 2013 blog, "Evaluating an Opportunity".
A second employment happiness filter I offer each of my clients includes these three questions:
Can you use, develop and stretch your talents (your preferred skills, interests and knowledge),
…in a purposeful way (your contributions really matter, and bring meaning to your life),
…within a place that values you, and shares your values (your values fit their values)?
If you can answer each of these three questions in the affirmative, you are most likely happy with both your work and the organization you occupy. This is the ideal. I wish you the best as you pursue it, and hope this and my previous and future blogs will help guide you along the way.
Take a look at the slides and lecture by Dr. Catherine Sanderson. If you are like me, this will be reminiscent of your favorite lecture, presented by your favorite professor, during your best college days. In the spirit of the "career care" theme in each of my blogs, I have followed Dr. Sanderson's slides and lecture with my own thoughts about the pursuit of happiness at work. Between the two of us, we hope this blog will help you achieve greater happiness in your life and work. Happy trails to you!
https://georgedow.com/wp-content/uploads/2018/12/masthead-2.png
0
0
George Dow
https://georgedow.com/wp-content/uploads/2018/12/masthead-2.png
George Dow
2015-05-28 07:01:43
2015-05-28 07:05:47
The Pursuit of Happiness, On and Off the Job