April, 2017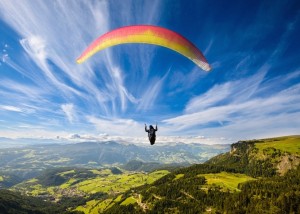 Career guidance expert and author Richard Bolles passed away last month at age ninety. This year marks the 47th edition of his annually updated classic, What Color is Your Parachute? Over 10 million copies have been sold since the first edition came out in 1970.
I have read many of his books, attended his lectures and have spoken at length with him multiple times. Here are my five favorite lessons from Richard Bolles.
Lesson One: Practice kaizen, which means never stop updating and improving your knowledge and contributions.

Kaizen is the Japanese word for continuous improvement. Bolles epitimized this practice by updating his book each year. About every five to ten years, it is time to see how Bolles has updated his advice for the changing times. Think of how much has changed since 1970, since 1980, even since 2012. Bolles continued "Kaizening" up to age 90!
Consider conducting your own annual checkup of professional knowledge and contributions. Bolles inspired me to stay current and relevant. I create and distribute these monthly blogs knowing that what was a best practice last year may need some adjustments before my next blog is released.
Lesson Two: Be "forever young" by continually broadening your horizons.
As I watched Richard Bolles present at a career conference in his early 80s, I sensed that he was very aware of the potential adverse consequences of aging. Because of his annual book updates, I knew that he was committed to being current and relevent. In his speech, Bolles told the audience that to remain young, regardless of your chronological age, one needs to have ever broadening horizons. "To be old is to have continually narrowing horizons," Bolles told the audience.
That day, I thought of the "old" people I knew. Their lives had shrunk to a small set of rooms and routines, a repetitive and uncreative career or retirement, and daily rituals that kept them in an ever shrinking world. Some of those "old" people were in their 40s! I thought of the special elders of any age, who epitomize the "forever young" mindset and behaviors that keep their horizons broad and their youthful spirit alive and well.
Up until his death at age 99, my father-in-law Jack represented this "forever young" mindset and behavior. At his memorial, the minister read a quote by American author Edith Wharton that perfectly captured Jack's perpetual youth. "In spite of illness, in spite of the archenemy, sorrow, one can remain alive long past the usual date of disintegration if one is unafraid of change, insatiable in intellectual curiosity, interested in big things and happy in small ways." I believe that one can achieve "forever young" by following the blended advice of Richard Bolles, Edith Wharton and Jack.
Lesson Three: Consider blending career and spiritual teachings as you pursue your next calling.
Richard Bolles is a former Episcopal minister, so it should not be surprising that he offered readers and audiences a blend of both career and spiritual guidance. He was never afraid to add religious quotes and teachings in his books, lectures and advice. One of his good friends was local author Richard Leider. Shortly after I heard of Bolles passing, I spoke with Richard about his many conversations with him.
Richard showed me the forward that Bolles had written for one of his books, Something To Live For: Finding Your Way in the Second Half of Life. When I read the forward to Leider's book, I was struck by how Bolles had written about conversations with God as a key factor in career decisionmaking. If you integrate spirituality and religious teachings into your life/work journey, Bolles' books will speak powerfully to you.
Lesson Four: Preserve your sense of humor, especially if you lose your way.
What comes to my mind are all the cartoons and humor in his books and teachings from the beginning. In a 2014 interview, Bolles said he hoped his franchise would continue after he was gone. His son, Gary, asked him about future editions of "Parachute" and finding other job-counseling experts for new career guidance content. "I told him to make sure to find people who are funny, and who have a lightheartedness about them," Mr. Bolles said. "When you are out of work and on the ropes, that is so important."
Lesson Five: Don't panic when you lose your way (especially when giving a speech, or offering advice.)

Here is a Richard Bolles memory I have shared countless times (and have often used myself.) Bolles was in the middle of a speech at a local career coach conference about fifteen years ago, when he forgot an important piece of informaton. He strained to remember, but it just wasn't coming. He then paused, looked around the room, and in a very pleasant and calm tone told us, "My brain is like a belfry, and my memories are like pigeons. Sometimes one or more of these "pigeons" fly away during a speech. They might, or might not, come back before the speech is over."
He went on to tell us, "I can almost see them flying around the room. They may never come back, but usually they do within five or ten minutes." The room cracked up, and we were all charmed by this clever, relatable, diversion. His "pigeon" came back in about five minutes. We laughed again, celebrated the pigeon's return, and left that session with a new tool for dealing with our own inevitable future memory failures and pigeon wanderings.
We have lost a giant in the career transition field. Richard Bolles was unsurpassed in his impact over the past 47 years, since his first "Parachute" book came out in 1970. We can learn volumes from his lifelong commitment to continual improvement, and from his sage career advice. In this blog I have shared five lasting memories from Richard Bolles. This is my way of thanking him for his impact on my life and work. I'm happy to pay it forward to you.
If you would like to learn more about the life and contributions of Richard Bolles, click this link for a New York Times article published after his passing.
https://georgedow.com/wp-content/uploads/2018/12/masthead-2.png
0
0
George Dow
https://georgedow.com/wp-content/uploads/2018/12/masthead-2.png
George Dow
2017-04-27 10:40:29
2017-04-27 10:40:29
Five Lessons from Richard Bolles