November 2011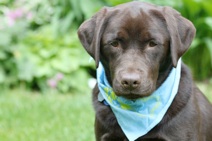 Friday, October 29, 2010, one year ago this month, my 21 years at Right Management came to an end. That same evening the service dog our family trained for two and a half years, Mia (pictured here) graduated. Two really big changes in one day! Mia's year has gone very well with Erin, her 15 year old quadriplegic partner. They are now the best of friends.
My next chapter, George Dow Consulting, began the following Monday. While not without challenge and at times a bit of exasperation, this has been the most professionally satisfying and successful year of my life.

Year One Navigation as a Solo Entrepreneur: Taming the Four Beasts
After attending a keynote speech by Daniel Pink, author of Free Agent Nation, in 2003, I joined a group of attendees for a debrief. Mr. Pink had just spoken of the growing momentum, and the many virtues, of self employment. I do recommend his book, but somehow in his speech Pink had failed to speak to some of the biggest challenges of this career choice. Ever since, I have kept four key challenges named during this debrief session top of mind.
If you consider moving in a "free agent" direction, I urge you to come up with your own approaches to the following challenges: social isolation, intellectual isolation, inability to leverage, and workaholic/obsessive tendencies. Each of these demons needs to be tamed for both success and satisfaction to follow a shift to entrepreneurship. In my January, 2012 entry I will share Pink's 101 tips on overcoming these and many other challenges of free agency. How will you address these challenges if you move from a "domesticated" to "wild" working identity? Such is the transformation, and such are the challenges, of moving from corporate employee to entrepreneur.
The good news? If this is the right move for you, the rewards will far exceed the challenges.
Don't settle.
https://georgedow.com/wp-content/uploads/2018/12/masthead-2.png
0
0
George Dow
https://georgedow.com/wp-content/uploads/2018/12/masthead-2.png
George Dow
2011-11-02 09:17:22
2018-12-03 10:48:28
Commencement For Mia and Me